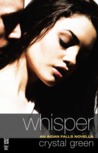 Whisper
by
Crystal Green
My rating:
3 of 5 stars
Summary:   
"Confess What You're Hiding , Show Who You Really Are, Meet Others Just Like You..."
That's the promise of the social media app called TellTale, and shy new girl Carley Rios is drawn by its lure of finding friendship…and maybe even more than that. Since she dropped out of college, she's been aimless and lost in Aidan Falls, a town where everyone seems so tight-knit.
When she comes across an anonymous, heartfelt confession on TellTale that seems to be about her, she feels a spark of hope. And when one sexy, sinful confession leads to another, she becomes swept up in a game of secret admirer. All signs point to her admirer being another newcomer in town, Micah, who's quickly gaining a reputation as a lothario.
Read more »